Prayer Corner
Visit the
Prayer Corner
for more daily readings, prayers, and more.
Epistle Reading:
Gospel Reading:
You are viewing the Old Calendar Readings. View the
New Calendar
Spiritual Reading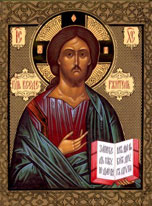 Monday, September 25, 2023
The Sermon of Sermons ... is the Sermon for the Cross, presented to us today by our Mother Church, on the Sunday after the elevation of the Honorable Cross. And we are all invited to offer to the Cross our hearts, instead of flowers and basils. The Church calls us to raise ourselves from the earth and our ordinary life, to gaze upon the brightness emanating from Christ and His Cross. The most central sign in the gospel is the sermon of the Cross of Christ: God on the Cross — incomprehensible and never understandable. Only men whose hearts pound with sincere feeling are capable of comprehending the meaning. Read more...